100 Plus Years of Men's Fashion
1900-2022 Mens fashions have come along way. From tailcoats to baggie pants.
After the 1800's gear I guess the men needed a change for the the knee-length frock coats and elaborate suits and top hats.
The Mens suit started in England back in 1900 with jacket, pants or trousers and vest. Darker evening suits for when they went out. I read that the men often changed clothes several times a day. More than the women ain't that something.
The earlier fabrics were heavier and then by 1910 men had less heavy coats and single -breasted jackets with narrow lapels and high buttons and straight pants.Then came detached collars and button down shirts, gambler boater hats with boots that were two colors.
By the 1920 was the birth of the Jazz Age suits became slimmer and brighter.  Men had different shaped jackets. Casual ties and bow ties became more popula
Front creases and cuffs on trousers then belts became into play. Then the Collegiate style became popular tightly-fitted jackets.
Then the hats became very popular.  With the different names from the hat called the Panama Hat to the felt fedoras that are popular right now with the various colors and styles. During these days of up cycles they are made of tweed, silk and  leather.
The 1930-1939 During the crash and the whole fashion industry changed the game.Then the era of the Clark Superman Kent came into play with big broad shoulders with shoulder pads and thin waist and tapered pants. Everything tweed , lien and flannel. high waist pants and pleats down the front of pants. 
Then came the birth of the  shirt with 4 front pockets with addition of sweaters.
The 30's had newsboy and Ivy caps, oxford shirts and winged-tipped shoes still popular at this time. But it is also the birth of loafers that are trending right now,moccasins and rubber-skinned ked sneakers.
At the end of the Era came the Zoot Suit with big colors and extra fabric and key chain accessories, feather hats.
Then the 1940's was another change without vest,pocket flaps and trouser cuffs. The rebirth of the double-breasted jackets and colors and hand painted silks and wider trousers.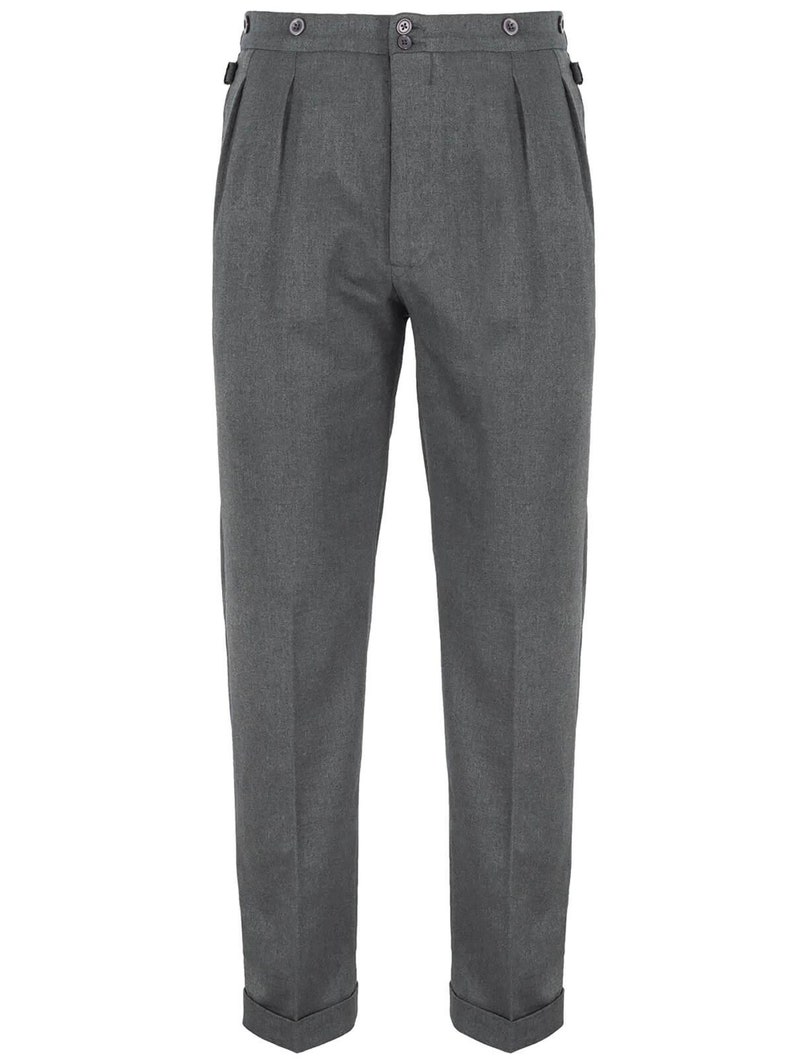 Ties became popular wider and shorter ties in varies patterns and colors. Novelty ties have been coming out as a trend. 
1950 time period became more casual with colors ad shorts sports blazers and sunglasses. Blue Jean, t-shirts and leather jackets.
1960 had the beginning of the flower shirts and wide fair paints, long hair, bright colors, thin silk scarves, paisley prints, velvet pants, puffy sleeves, and men's jewelry all taking their turn in the fashion spotlight.
The '60's were considered "youth-driven," with trends set by subcultures: mod, rocker, hippie, etc. and fashion, as a result, was as bold as it was lighthearted.
1970's platform shoes and bell bottom trousers were menswear staples. Leisure suits and tracksuits were also popular. Bell bottoms were characterized by a high waist, a tight fit through the thighs, and a flare beginning at the knees and extending outward. Bell bottoms were paired with suits and wide collar shirts in varying patterns from loud floral to polka dot to checked to plaid and everything in between. Chunky cable knit turtleneck sweaters (often with matching belts or hats.
Whee made it to the 80'sActive wear–think matching sweatshirts and sweatpants, pro-sports (NFL) branded clothes, and athletic shoes like Nike Air Jordan's–was "in. The denim jacket, a long-sleeved velour shirt, and a pair of Levi's.popular pieces in menswear included slouchy, pleated trousers, bomber jackets, preppy plaids, polo shirts, and turtlenecks,bomber jackets.
1990 Rave, hip-hop, and grunge ( the excess and flashiness of the past two decades). T-shirts, shorts, jeans, trainers, sweatshirts, hoodies, tattoos, piercings, are a combination of previous decades. Leather jackets, knit sweaters, flannel button-downs, bowling-inspired button-downs, baggy denim jeans, overalls (especially with one strap down–thanks, Will Smith), baseball caps, jorts (jean shorts), manpris (man + capris… not quite shorts, not quite pants. Yeah, that happened), parachute pants, sporty sneakers, and graphic t-shirts were 90's staples. Oh, and saggy boxer-baring pants were also big.
2000-2022 the millennium, men's fashion experienced a brief "futuristic" wave. Black, silver, and metallic were in. Men wore leather outfits, puffy jackets, tracksuits, and Rockport boots. Distressed denim became popular, along with military wear as everyday clothes. Popular colors included beige, rust, and forest green, and men wore low-rise jeans, light-colored polos, cargo pants, khakis, and short sleeved button-downs. Accessories such as white belts, aviators, trucker hats, flip-flops, Argyle print, and oxford shoes.
 Black, navy, charcoal, and pinstripes. Nehru suits and Mandarin collars. Men favored the smart casual look with flat front chinos, beige cardigans, Argyll pullovers, and houndstooth sports coats.
Sneakers, from Chuck Taylors to Nike Air Jordans, became hot items.vintage thrift store shopping and adopting a darker, rocker aesthetic–a twist on British mod.
Smart casual looks, leisurewear, along with hipster fashions were on trend. 
Menswear has been influenced by music, war, the economy, women's fashion, cars, gangs, celebrities, sports, and so much more  so wear what you like and start a trend.